Make It Happen!
Now that you have an overarching D&I plan and an idea of how you'll measure it you can start by undertaking initiatives.
We've created some tools to help you identify and prioritise your hubs D&I efforts, help you to drill down the specifics of a particular initiative proposal
On this page you'll find;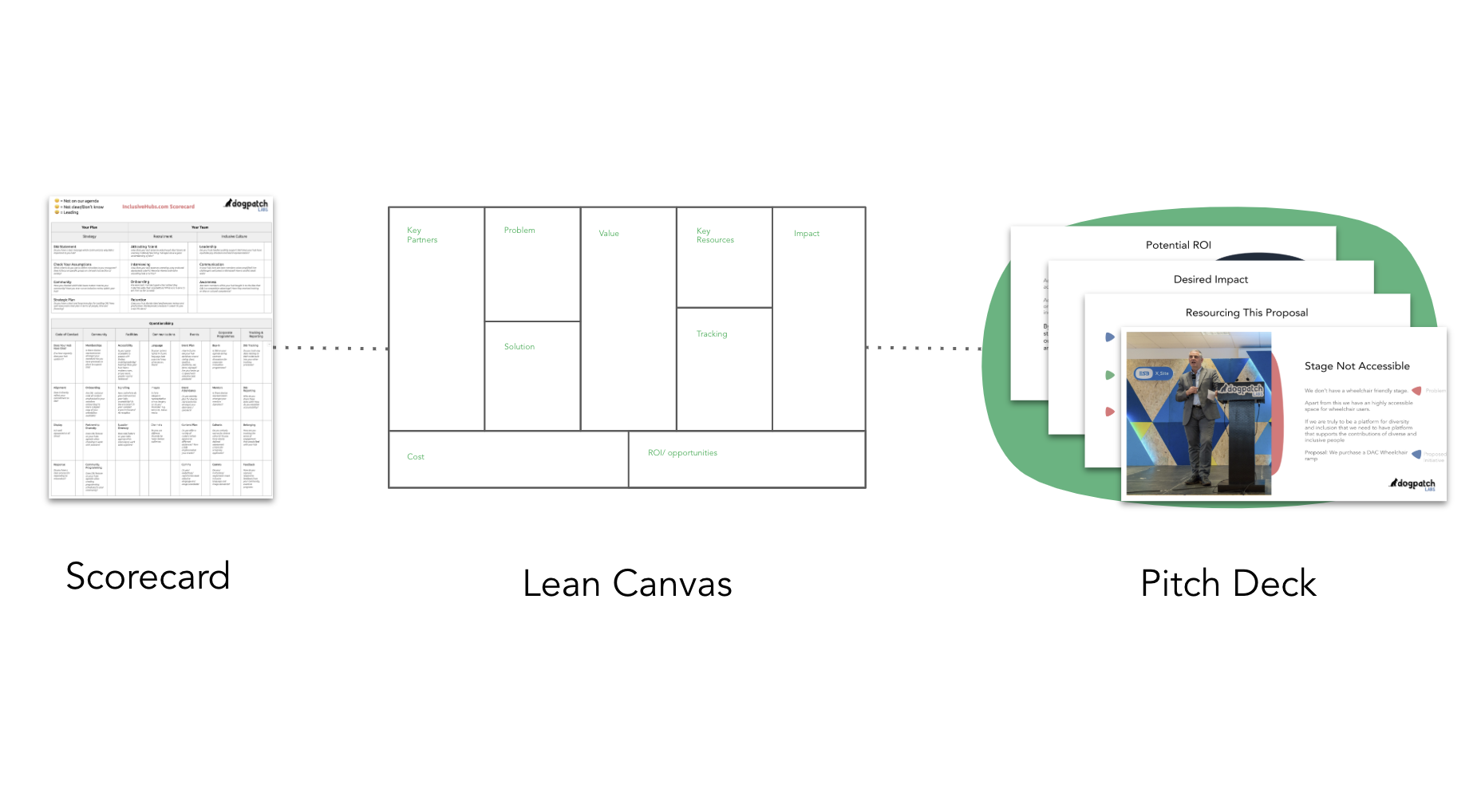 ---
Refine Your D&I Plan
The first step in getting any initiative off the ground is to get support or resources allocated to your project. Mapping your strategic plan ahead of time will help give a sense of direction and help inform your measurable outcomes and goals.
Step 1: Map Your Gaps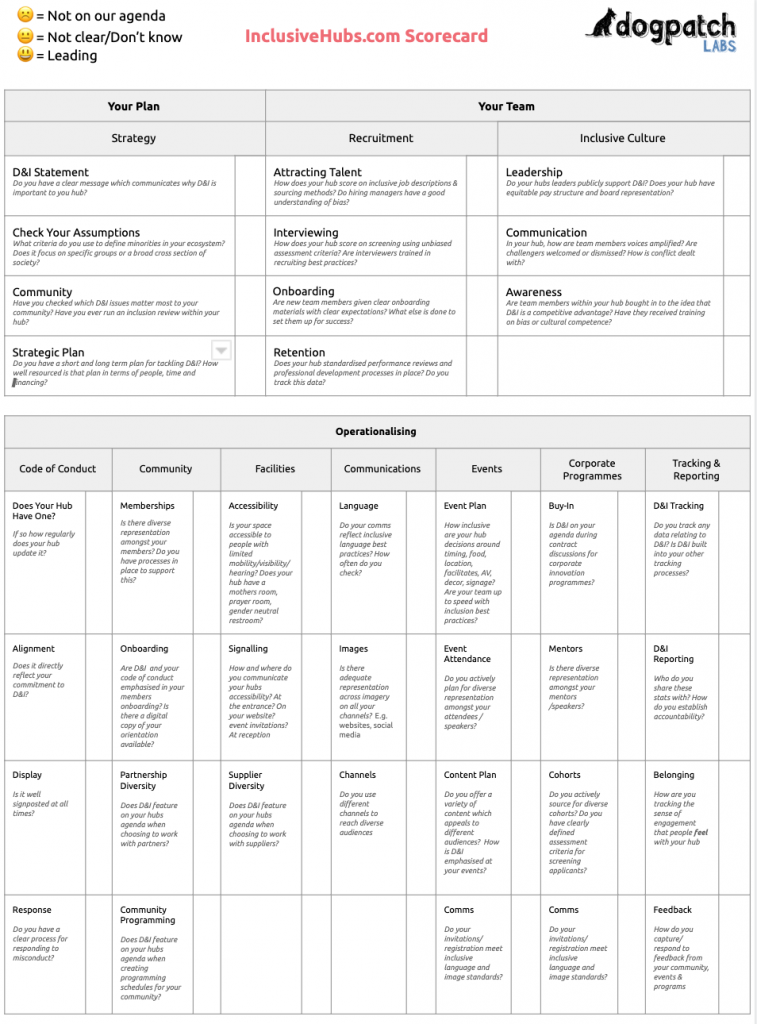 If you haven't already, use the Inclusive Hubs Scorecard identify what your hub is doing well in D&I and any opportunities for improvement you might be overlooking.
---
Step 2: Decide What Approach You'll Take
Take 2 minutes to consider what type of content might best suit your audience and what sort of initiative suits your hubs capacity.
Tip: Start Small
It will be easier to get smaller, quick-win initiatives over the line rather than a larger, more costly initiative like an event or programme.
Starting small is beneficial for a few reasons:
It'll help you to iron out any flaws in your processes
You can build and iterate on a successful small project
Having multiple success stories will help build up support for the larger-scale actions.
Broad vs Targeted Approach

You should also consider how knowledgable your hub team, community and ecosystem are about D&I.

Foundational Training

If there has been very little discussion on D&I it's better to start with the basics. Some ideas might for foundational training:

Run training about what unconscious bias is and how it affects decision making
Run team/community workshops

Ask them how they feel about D&I, what issue they prioritise.

Run cultural competence training

Targeted Initiatives

If your hub is slightly more knowledgable about D&I, you can move on to implement more targeted initiatives aimed at increasing D&I across your hub. These can range in size from running a large scale event like Diversity in Tech Week or something as small as getting sign off for buying a wheelchair ramp.
Operations vs Advocates

There are two streams to thinking about D&I as a startup hub:

Operationally: Looking internally to your own hubs processes and embedding D&I throughout them.

Advocacy: Supporting D&I within your ecosystem by supporting underrepresented minorities, either through targeted programmes or raising awareness about the importance of D&I in the wider ecosystem (e.g. via events).
---
Step 3: Map Your Initiative
Once you've decided on your approach, start clarifying what financial and time investment you'll need to achieve success for your D&I initiative. Start with the best-case scenario and work backwards, you never know who you could get on board with your vision!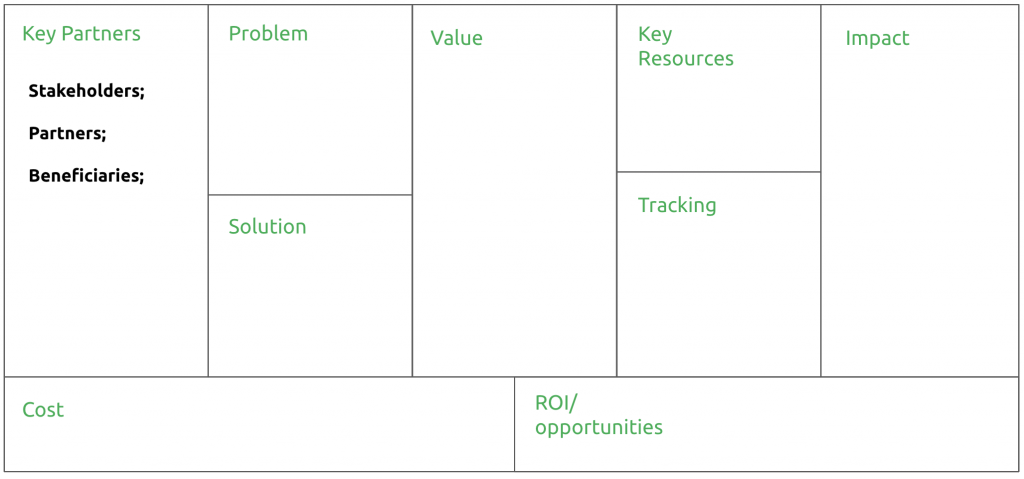 We've adopted the traditional lean canvas for use as a framework to help you outline your plan for a particular initiative. Use it to inform your pitches
Quick Tips For Mapping Support

At Dogpatch Labs we create a "one-pager" to capture the overall plan in one place, particularly for larger scale events.

Why: It helps in communicating goals and asks to team members and stakeholders.

People Support

Clarify what your individual role will be in this D&I initiative and then build out your team support needs from there.

Some questions to help define your team support needs

Show more

---

Partners Support

Use your Stakeholder Mapping Framework to help you identify opportunities for collaboration or sponsorship.

---

Financial Support

Create a high-level budget with forecasted costs for the initiative. It can be updated with finalised figures as your planning progresses.

Take a look at Atomico's approach to resourcing for reference when building this plan.
---
Get Buy-In
The success of a D&I function starts with genuine buy-in from leaders within your hub and team members. The ultimate goal is to move your team from being supportive of D&I to being committed to improving it.
Unlocking passionate people is crucial.
Regardless of the size or location of your hub, there will invariably be people who are passionate about making social change. Leverage this to help drive D&I forward in your hub. These people will also act as influencers within your team.
---
Embedding D&I into role responsibilities
Below are two example job descriptions we've used at Dogpatch Labs to outline the responsibilities and actions that can help drive D&I forward in a hub.
A D&I Champion refers to someone who plays an active role in supporting D&I implementation as a side project to their primary role.
Use this job description to help you get a small portion of your role (<20% of your time) allocated to helping support and implement D&I in your hub
A D&I Lead drives strategic change within a hub. They are subject matter experts and the growth of the D&I function is a primary focus within their role.
Use this job description to help you get a larger portion of your allocated to strategically design and implement D&I programming and processes in your hub
---
Pitching to get buy-in for an initiative
Your pitch for a specific initiative should have enough detail to effectively communicate what you're hoping to achieve and enough inspiration to the intended audience excited to support your initiative (refer back to your D&I mission statement for added)
Below you'll find different examples of how Dogpatch Labs sought support for different initiatives from three separate audiences.
TIP! Use your PESTEL review to help give context to any pitch which focuses on an identity group.
Pitching D&I To Executives Decision Makers

It's important to get establish commitment from your management before you take any steps. The level of commitment you get will determine the scale of your D&I initiative and the top-down support for D&I within your hub.

Each hub has its own process for asking for top-down support. At Dogpatch, we find pitching initiative to be the most compelling, succinct way to get our ideas across. We structure our internal initiative pitches as follows;

Linked below is an example of pitch we did to get a wheelchair ramp approved for our space using this framework.

Tip! Building on the existing relationship between your hub and its partners/sponsors could also be a key selling point when you're seeking support.
Pitching D&I To Corporate Partners

Below is a framework for how to structure a succinct pitch to help pitch a potential partner to collaborate or support a D&I initiative you're hoping to run.

This deck is an example of the deck Dogpatch Labs used to communicate our vision for our very first Diversity in Tech Week to corporate partners.

Tip! Check out the D&I messaging on your partners' website and see if you can plan an initiative in line with their vision. They may be interested in supporting or sponsoring you or may have knowledge on D&I that they're willing to share.
Getting Buy-In From To Your Team

Your team make up a vital component in scaling any D&I initiatives and eventually building out a function.

Below is a lunch and learn deck we used in Dogpatch Labs to explain the importance of D&I to our team before DITW. Use this deck as a basis for creating your own, authentic version which reflects your hubs D&I drivers.

As you can see we started with explaining why D&I is important in a broad context, then brought it back to our hub and finished by highlighting what our next steps were.
"Getting a project proposal over the line requires clear communication about what you want to achieve and why it's important to you, for your team and your hub and your ecosystem. D&I is no different, your pitch should include a strong business case, strategic plan and metrics as well as a compelling narrative."

Liz McCarthy
Head of Special Projects
Dogpatch Labs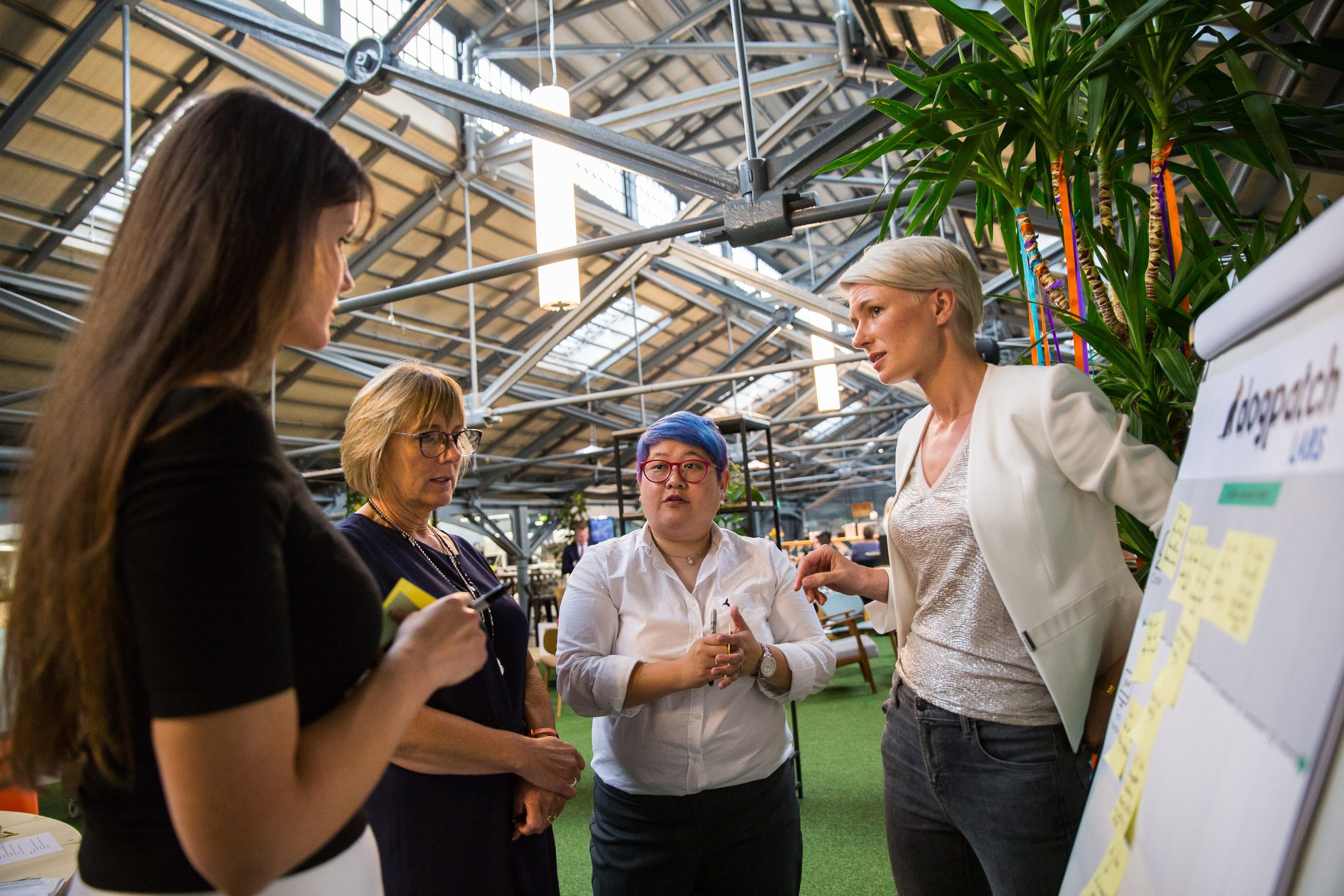 ---