"Recruiting diverse talent can be challenging in the niche entrepreneurial market we're in. There's a balance to be struck between people who offer fresh perspectives and insights, and those who have startup experience. As a small team we're trying to identify and establish best practices for sourcing and growing talent and D&I is core to this"

Miriam Sweeney
Community Programs Associate
Dogpatch Labs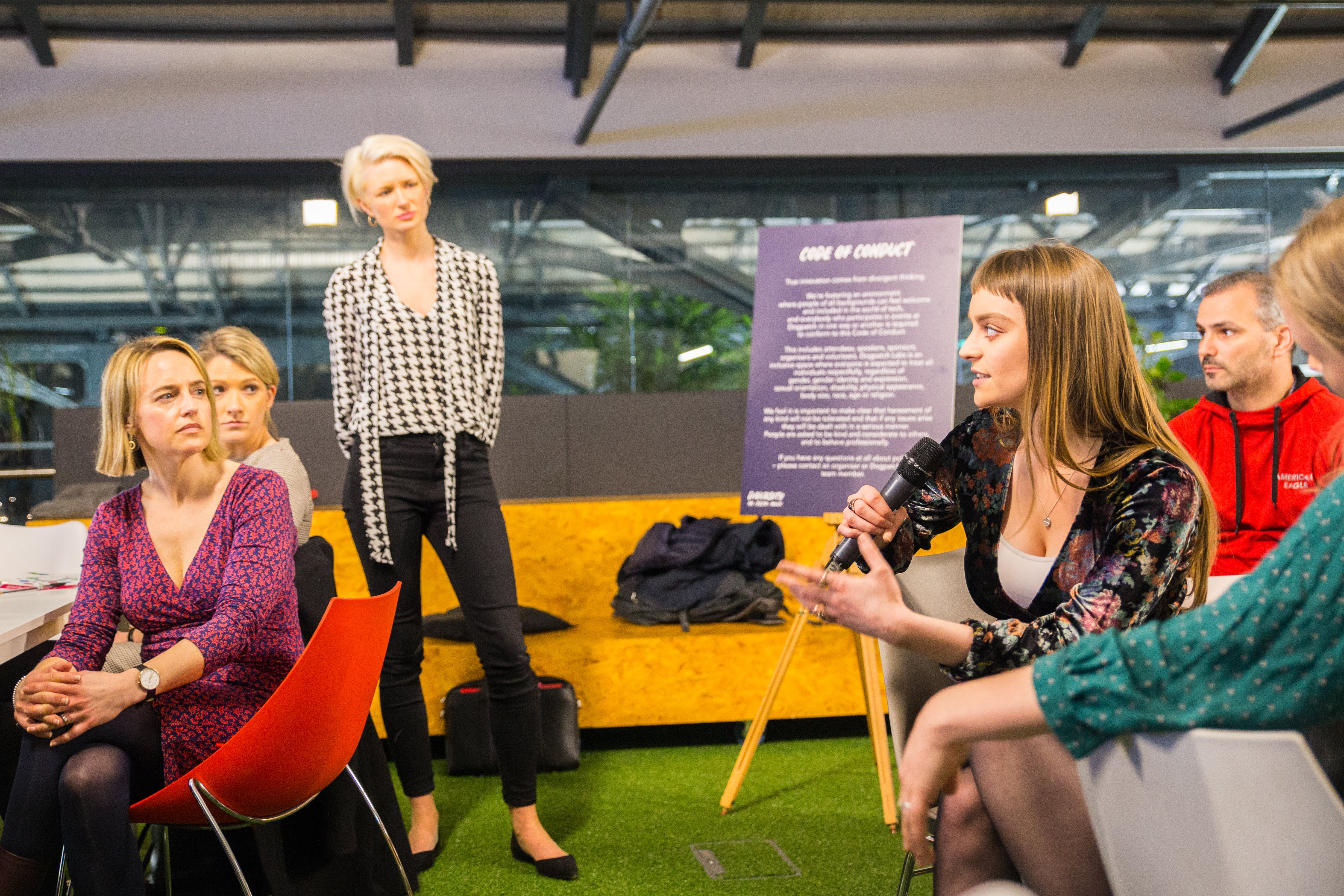 Recruiting and Retaining Diverse Talent
It's estimated that 65% of startups fail due to people-related issues (See Fortune Article here).
There's a common myth in tech which suggests tech's lack of diversity is down to a "pipeline issue". There will be environmental factors that contribute to the lack of diverse candidates which will be unique to your ecosystems needs but that doesn't mean your hub should be apathetic about your hiring processes.
Take a look at this short video on Harvard Business Review as to how hiring processes can reinforce the leaky pipeline and undermine your diversity efforts. Establishing is data-driven hiring process is the first step in minimising unconscious bias.
Recruitment is broadly broken into three phases;
Candidates are sourced or apply
They're assessed/interviewed
Onboarding and integration of successful candidates
There's an abundance of resources out there for improving your recruiting processes and minimising unconscious bias.
On this page you'll find:
---
Attract Diverse Talent
The first step is to look at why your hub might not be attracting diverse candidates.
Your aim should be D&I should be to identify:
The groups that are/aren't interacting with your hub
Changes, both short and long term, that your hub can implement to maximise your hubs' appeal to diverse candidates
Tip! Be conscious of the images & language you use, for more information on this check out the Communications part of this playbook.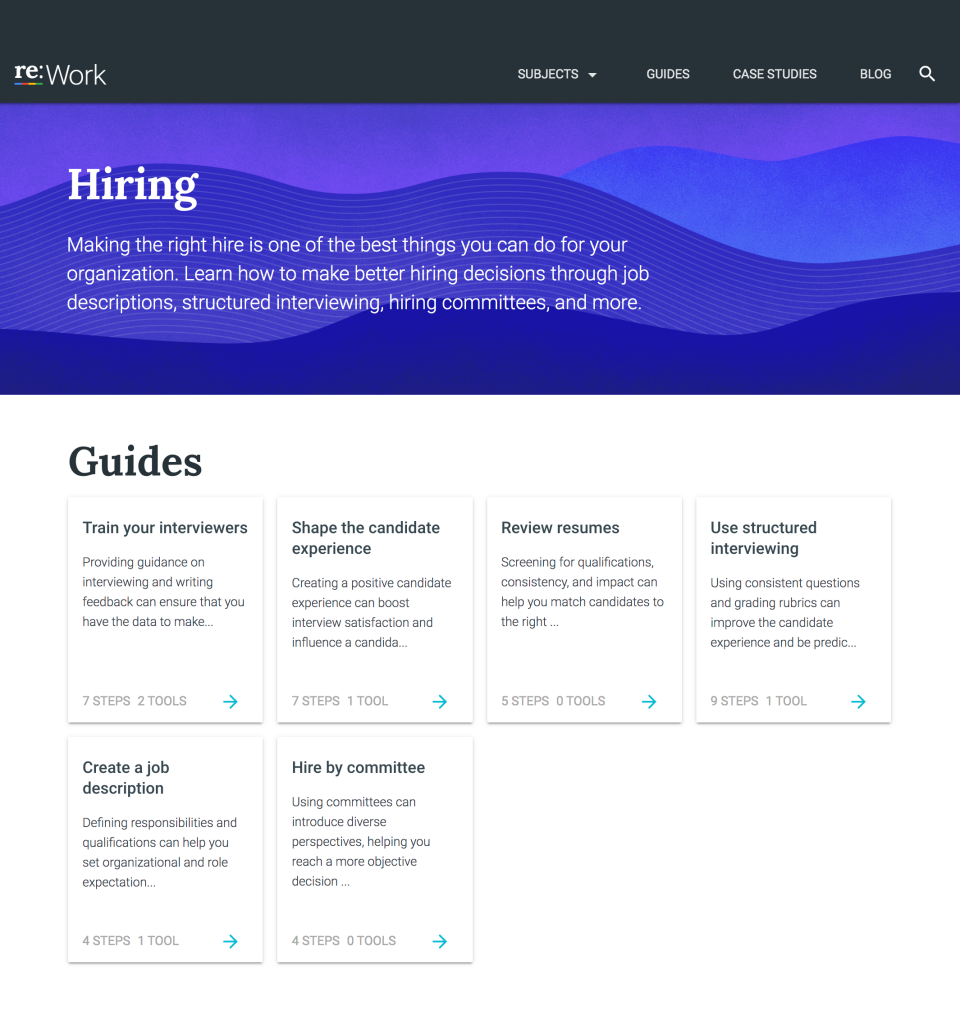 Google Re:Work have a great hiring toolkit which covers some of the core areas for hiring
Below you'll find some deeper diver content which you can use to help attract diverse talent to your hub.
Understand The Causes

This 20-page toolkit offers some solutions to common pitfalls that lead to limited engagement between diverse talent and your hub team.

Note: The change catalyst site requires your name, company name and email before you can access this asset in full.
Conduct an Internal Review

Check out this article on LinkedIn's Talent Blog and to get an idea of ways you can examine the sourcing processes your hub currently has in place.
Intentionally Source Diverse Talent

This quick talent guidebook contains useful insights into how you can source diverse talent actively and passively and highlights D&I considerations when using Artificial intelligence in recruitment screening.

Pages 5-9 "Why you may not be finding diverse candidates"
Pages 12-14 "Sourcing Diverse Candidates"
Pages 15-21 "How to Improve your Recruiting Process"

Note: The Harvey Nash site requires your name, company name and email before you can access this asset in full.
Review Your Job Descriptions

Use this short asset to help you create strong job descriptions.

Language

Language everyone understands (minimise company-specific jargon)
Choose your words carefully
Be sure to state your commitment to building a diverse and inclusive culture on your job descriptions and careers site.
Use this site to quickly help you decoder your job descriptions for gender

Qualifications/Responsibilities

Which qualifications are essential for the role, and which are preferred

Minimum qualifications should be the non-negotiables like education, experience, skills required. Be specific and decisive on what qualifies as a must-have.
Preferred qualifications are more qualitative, not mandatory but would be a bonus. Don't arbitrarily confuse preferred qualifications with mandatory one as the results can be detrimental to the type of candidates who apply.

Which behavioural qualities are essential for the role, and which are preferred
Which technical competencies are essential for the role, and which are preferred
Conduct Blind Screenings

Check out this article on LinkedIn's Talent Blog to help you consider some ways to conduct random blind screenings.

Why? Blind screenings are a great tool for minimising unconscious biases in the resume review process.
---
Assessment Criteria
Combating bias in interviews is one of the most common pitfalls in recruiting processes. We all carry around the idea of meritocracy: that we judge individuals solely upon their merits. However, these judgements clouded by our biases and tendency toward "sameness".
Take a look at some steps you can take to try combat these biases
Build Robust And Fair Screening Analyses

Use Visier's open-source talent acquisition page to maximise the effectiveness of any recruiting analysis you're undertaking throughout your hub.
Develop An Interview Rubric

Ensure your hiring process is data-driven by developing a standardised question bank to clearly set parameters as to what distinguishes Poor, Mixed, Good, or Excellent candidates from one another.
Take a look at Google's interviewing rubrics and what qualities they measure candidate success on.

Tip! Tap into your values when developing your rubrics, particularly for any culture-fit rubrics as culture fit can undermine diversity (Read more about this idea here on Medium)
Effective Interviewer Training

Effective interviewing training should contain the following elements for maximum inclusiveness:

Self-awareness training – to help interviewers become more aware of their own internal biases and critically analyse and improve recruitment methods within your hub.
Cultural Awareness – to help mitigate preferences for familiarity.
Active listening training – to help them identify data points from candidates answers, especially in cases where the candidate is answering in their non-native tongue.

Why: An interviewers own biases can lead to unfair judgement of a candidate. If your interviewing techniques are robust it helps raise the quality of data collected by your interviews, meaning you have more than a gut feeling to judge the candidate on.
---
Onboarding & Retention
Affecting real change requires continuous effort and significant buy-in from management at all levels. Implement strategies that ensure ongoing success help assure that your investment in D+I is sustainable with a measurable ROI.
Set Clear Expectations From Day 1

Onboarding is a crucial make or break stage in the recruitment process. Here are some tips for ensuring that your onboarding process is thorough and stresses inclusion.

Use the job description and interviewing rubrics to build onboarding documents for the role
Have a plan in place for next 30 & 90 days

Flag this plan to them ahead of time, they might be too intimidated to ask questions about what to do and when

Ask the person how often they might like to receive feedback
Ask them to give feedback in 6 weeks to assess your onboarding process

Fresh eyes give an outlook on opportunities lost or suggestions of different ways

Organise a social opportunity for them to meet their team.
Have A Standardised Performance Review System

Developing a viable professional development plan for employees helps to identify 'hidden' high-potentials.

Use the job competencies you've developed as a start and work collaboratively with your employees to build our OKRs and support their professional growth.

The Google Re: Work Guidebook attached has more information on setting OKRs.
---
Tracking D&I in your Recruiting Processes
Once candidates are hired, talent acquisition functions (TA) tend to hand over to HR and management functions. This can mean that teams fail to identify traits of successful new-hires and fail to expand the criteria for future job specification.
Aim to understand which traits and situations lead to successful candidates by measuring recruitment and onboarding metrics. (Take a look at this Viser's article about for more about measuring recruitment's business impact).
Below you will find some suggestions for metrics you can measure to gain a better understanding of D&I in your programmes. Together these metrics can help establish a baseline for your hub and give insight which will help you decide what else you want to measure.
These metrics will ideally be integrating D&I data into your existing data collection processes for the recruitment and professional development.
Where to capture this data
Job Application Forms
HR processes, feedback loops
Exit Interviews
Note! Remember to set measurable, data-driven goals before you start tracking. And don't overlook engagement and belonging scores which you can measure using Inclusive Team Culture section of this site.
Representation

Representation measures the demographics of the people in your team.

Staff & Leadership

Look internally and make note of whether your team represents a diverse section of your ecosystems population.

Assess

Distribution of representation

Across D&I traits that are of interest to your hub e.g. age, race, gender etc. (for more see the 'Tracking' section of this site.

The intersection of these identities

Whether Leadership Principles & Code of Conduct are perceived to be upheld.
---
Diving Deeper
Below are more metrics you can measure which can give more context to trends you identify in representation. The type of data you collect will be determined by your hubs current practices, priorities and the baseline data you gather
Recruiting Practices

Use D&I metrics for recruitment as a basis for measuring practices used to screen and select:

Individuals being recruited to work in your hub's team
The startups applying for membership
Any applications for innovation or mentoring programmes

---

---

Review

Recruitment strategies
Job specs & advertisements
Scorecards & rubrics

Assess

Compare

Onboarding success rates
Employee satisfaction
Hub reputation and brand
Hub Benefits

Measuring your hub's benefits can help highlight whether the operational structure of your hub is targeted at certain groups and how that might be isolating other groups you're hoping to attract.

For example, in Dogpatch, we were holding community drinks as a key community engagement driver but realised that 30% of our members were working parents who may not have the time or desire to drink after work. We now host a community breakfast in lieu of drinks every few weeks to try to drive more engagement from these folks in our community.

Review

Non-financial benefits offered to team members
Extracurricular activities on offer

Assess

# of rewards earned (in capital)
How relevant/enticing those extracurricular activities are to all members
Who avails of these benefits
How much value is placed on each benefit

Compare

Demographic info (of individuals)
Organisational level
Role type
Inclusion review data
Retention

Retention can be a quantitative indicator of engagement, satisfaction and belonging in a hub. Happier employees stay in companies longer.

However, you should use qualitative measures to supplement the numerical data, as a number of factors feed into why people or startups join and leave hubs.

Review

How recognition is valued and awarded

Contribution type
Contribution volume (in hours)
Recognition type
Recognition value

Track

Tenure
Employee turnover
Retention rates
Reasons for exits

Compare

Demographic info
Organisational level
Role type
Progression

Progression gives more context to retention. 

Data about progression is also primarily quantitative and should aim to track opportunities for movement within the hub as well as actual movements within teams.

Progression data can also capture trends over time and help to identify biased promotion rationale.

Type of Data: Quantitative

Review

Each person's title & level within a company

Assess

Tenure
Employee turnover
Retention rate

Seek out self-reported measures of:

How often individuals attend pivotal meetings
How many individuals are involved in key decision-making processes

Compare

Time to promotion
Average promotion rate
Percentage of transfers to the department
Development Opportunities

Hub Team

Access to opportunities can often be based on who you know and doesn't provide equal access to all people. Involvement in these additional projects then feeds into performance reviews and perceptions of competence and can lead to measurable disparities in progression or reward structures like bonus allocation and salary negotiations.

Type of Data: Quantitative

Review

Mentoring opportunities
The avenues for members to apply/seek out opportunities
Selection criteria used for development opportunities
Whether the programme for training content meets inclusive design principles

Track

Participation rate
Average training hours per employee
Total number of training hours offered

---

Type of Data: Qualitative

Track

How do team members rate their access to projects
How do team members rate their exposure to upper management
How do team members rate their team collaboration
Training and other learning and development participation
Delegation of 'office housework' i.e. low-value administrative work